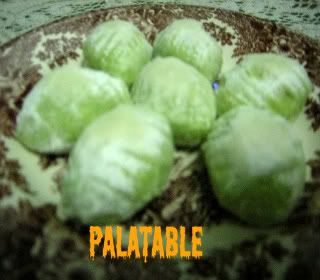 Another popular cookies baked during Eid or Chinese New Year. Made of wheat flour, ghee (clarified butter), stuff with roasted ground peanut and sugar then mould into leaf shape biscuit using the pincer. You can also shape them into small ball and stuff the filling.
A drop of green colouring is added to the dough if not you can let as it is. If you find the dough is too soft you can add some flour. After baking you have to coat them with icing sugar. These are very fragile to handle and really melt into you mouth.
INGREDIENTS
500g plain flour
80g fine sugar
320g ghee
1cing sugar for coating
green food colouring (optional)
FILLING
300g ground roasted peanut
70g fine sugar
METHOD
1. Mix together the flour, fine sugar, ghee and a drop of colouring into pliable dough.
2. Combine together roasted peanut and sugar for filling.
3. Take small ball of the dough, stuff with the filling. Shape as per photo above.
4. After shaping, use the pincer to make a leaf like pattern on top of the biscuit.
5. Bake at 170C for 15-20 mins.
6. After slightly cool,coat the baked biscuit with icing sugar.
Whats Cookin' In The Kitchen Friday
12 WOCC Week 4
Frugalicious Friday
Remodelaholics Anonymous 42
Saturday Nite Special 53
Saturday Soiree 23
Weekend Wrap Up Party
Show And Tell Saturday
Sundae Scoop
Sunday Showcase
Just Something I Whipped Up
Check Me Out Saturday 39
Sister Sister Sunday
Friday Potluck
Feature Yourself Friday
Foodie Friday
You Like Me
Connect with me:
FACEBOOK /
YOU TUBE /
YOU TUBE
/
RSS
/
EMAIL