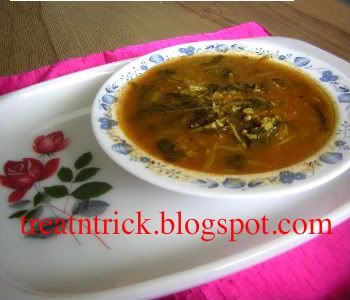 Spinach is a favourite vegetable of my family, need to prepare this it in many ways so that they don't feel bored eating it. Combination of the green and dal produce an excellent side dish and this recipe is one of them.
INGREDIENTS
250g spinach chopped and washed
1/2 cup toor dal
1 cup tamarind juice
2 tomatoes chopped
6 dry chilli
1 teaspoon mustard seed
5 shallots sliced
a pinch of asafoetida
2 teaspoons coriander seeds
2 teaspoons chana dal
2 teaspoons urad dal
1/2 teaspoon turmeric powder
oil
salt
METHOD
1. Boil dal with turmeric until soft.
2. Heat the oil, fry dry chilli, coriander seeds and chana dal then blend them.
3. Add the spinach, onion, water and tomato to the dal, cook until soft.
4. Now add salt and tamarind juice let it boils. Add ground ingredient, cook for 5 minutes.
5. In a separate pan, fry mustard seed, urad dal and asafoetida until it splutters then pour this onto spinach pot, cook for a few minutes then remove from heat.
6. Serve hot.