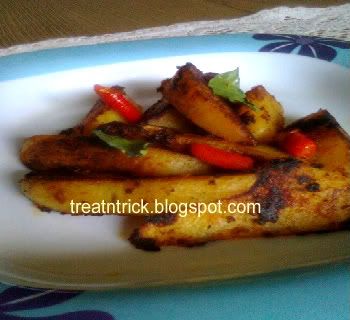 When my son is asking about chips, this recipe came into my mind, not only it is healthy but very delicious. To speed up cooking, boil the potato until half cooked with little salt, drain then sprinkle with the required spices. Try to cut the potato almost same size for even cooking. Used minimum oil just to coat them and to obtain lovely brown color.
INGREDIENTS
5 medium size potatoes cut into wedges
salt to taste
3 tablespoons oil
1 - 2 teaspoons chili powder
1/2 teaspoon garam masala
1/2 teaspoon turmeric powder
DIRECTIONS
1. Place the cut potato, water and salt into a pot. Water level should be above the potato. Boil until half cooked. Drain.
2. In a bowl combine together potato, chili powder, garam masala, salt and turmeric powder. Mix well. Caution not to break the potato.
3. Heat the oil, add in the potato and fry until light brown.
4. Remove from heat. The potato is ready to be served.
Just Another Meatless Monday 45
Midnight Maniac Meatless Mondays
Market Yourself Monday
Link Party Time
Monday Mania
Its Party Time
Homemaker Monday
Making World Cuter Monday
Made By You Monday 37
Craftomaniac Monday
Foodie Friday
Show And Tell
Friday Favorites
GCC Recipe Swap