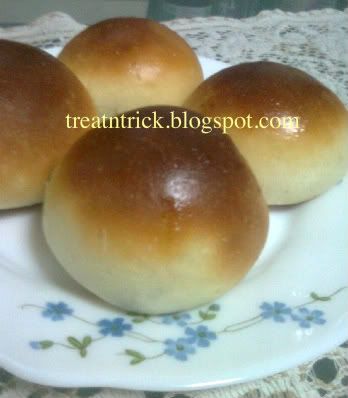 Back in action, kungfu with my dough again, this time around playing with oat and raisin, can't believe my eyes how this bread really swelled from the original size once I have baked them. Trust me, it's worth making, turns out wonderful and great to dip with a cuppa. Although you could use the yeast mixture after 10 minutes, I let the yeast sit for an hour then mix the dough. Another tip is to let the dough ferment longer and by doing that the bread turns softer and fluffier. What you need are:
INGREDIENTS
2 and 1/4 cups all purpose flour
1/4 cup rolled oat (grind)
2 teaspoons dry yeast
2 tablespoons sugar
1/2 teaspoon salt
5 tablespoons melted butter
2 tablespoons milk powder
1 cup warm water
3/4 cup raisin soaked 30 minutes, drained
METHOD
* Combine yeast, sugar and warm water in a bowl, keep aside for 10 minutes or until foamy.
* In a mixing bowl, mix together flour, oatmeal, salt, butter, raisin, milk powder and yeast mixture. Knead by hand for at least 10 minutes or use stand mixer until smooth. Keep covered for 2 hours.
* Gently deflat the dough and divide into 10 balls. Place the bun onto greased pan and let rise for 1 hour. Towards the end of raising time, preheat oven @ 180 C.
* Brush top with melted butter and bake for 15-20 minutes. After removing from oven brush again with butter. Enjoy!
Tempt My Tummy Tuesday
Topsy Turvy Tuesdays
Slightly Indulgent Tuesday
Tip Me Tuesday
Tasty Tuesday
Little Birdie Told Me
Made From Scratch
Let Your Creative Juices Flow
Dr Laura's Tasty Tuesday
Delicious Dishes
Tuesday Night Supper Club
Sunday Showcase
Sundae Scoop
Recipe Link Up
Say Hi Sunday