This is the famous North/South Indian dessert using vermicelli. For those unfamiliar with this, please see the attached photo below which is easily obtainable from any Indian shop. I have made it with milk for a creamier and richer taste but it could be done with just water. Another adjustment is the amount of sugar used, do add more if you have sweet tooth and fry the nuts and raisin in cooking oil not ghee (clarified butter). It tasted excellent with just right amount of sweetness. This recipe is a keeper, would definitely cook again.
INGREDIENTS
1 cup vermicelli
1/2 cup sugar
1 cup water
1 cup evaporated milk
1 tablespoon butter
i tablespoon broken cashew or almond
1 tablespoon raisin
a pinch of cardamom powder
yellow food coloring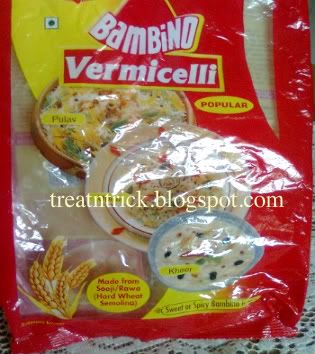 METHOD
* Heat the oil and fry the nuts and raisin, remove and keep aside. With same oil fry the vermicelli until light brown, remove.
* In the same pan, add water and milk, bring to a boil then add the vermicelli, keep stirring until vermicelli turns soft.
* Add coloring, cardamom and sugar, stir until thicken. Put in the raisin and nut.
* Transfer onto shallow tray to set. Serve warm.
WFMW
Real Food Wednesday
We Did It Wednesday
Whatever Goes Wednesday
Whats Cooking Wednesday
Show And Tell
Creative Share Wednesdays
Sugar & Spice
Link Up
Cheap Thrills Thursday
Pennywise Platter Thursday
Ultimate Recipe Swap
Simple Lives Thursday/
Motivate Me Monday
Market Yourself Monday