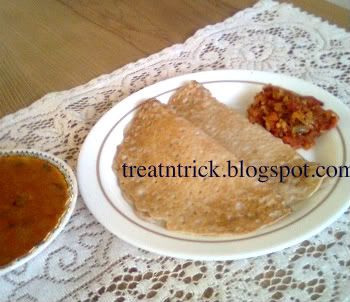 My son is a great fan of pancake especially when taken with curry or sambar (lentil with vegetable). Have tried pancake with oat, savoury as well as sweet variety, now using wheat flour, rice flour and whole wheat flour together with chopped onion. Pretty quick to prepare and tasted great. We enjoyed eating them with sambar and tomato chutney.
INGREDIENTS
3/4 cup wheat flour
1/4 cup whole wheat flour (atta)
1/4 cup rice flour
2 tablespoons coriander leaves chopped
1 teaspoon cumin seed
1 big onion chopped (optional)
salt to taste
water
cooking oil
METHOD
* Combine together wheat flour, rice flour, whole wheat flour, coriander leaves. onion, cumin and salt.
* Gradually add water to obtain thin batter, mix well. The consistency is slightly thinner than evaporated milk.
* Pour a teaspoon of oil, then pour a ladleful of butter. Once the top looks dry, flip and cook the other side. Remove and stack on a plate.
* Continue with the rest of the batter.
* Serve hot.
Motivate Me Monday
Made With Love
Mad Skills Link Party
Making World Cuter Monday
Mel In Your Mouth
Amaze Me Monday
Mingle Monday
Market Yourself Monday
This Weeks Cravings
Homemaker Monday
Midnight Maniac Meatless Mondays
Just Another Meatless Monday
Monday Mania
Whassup Wednesday