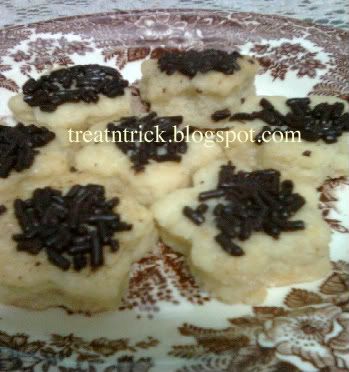 For some time I didn't bake any cookies, so i tried this simple recipe and it turns out to be not overly sweet and easy to prepare. This is just the basic dough but you could add nuts, chocolates or dried fruit and decorate according to your style.
I'm using the cookies cutter and sprinkle the chocolate rice on top, lightly press so the chocolate will stick to the cookies.
INGREDIENTS
2 cups all purpose flour
3/4 cup butter
1/2 cup sugar
1 teaspoon baking powder
1/2 teaspoon vanilla essence
1 tablespoon milk
chocolate rice for garnish
METHOD
* Sift flour and baking powder.
* Cream butter and sugar until creamy, add baking powder and vanilla essence.
* Now add butter mixture with flour and milk, form into pliable dough.
* Shape the dough using cookies cutter or roll into small ball then flatten. Preheat oven @ 170 C.
* Decorate cookies with chocolate rice and bake for 10-15 minutes . Remove from pan after 5 minutes and cool on wire rack.
* Store in an airtight container once it is completely cool.
Linking to
Sugar High Fridays: Sprinkles