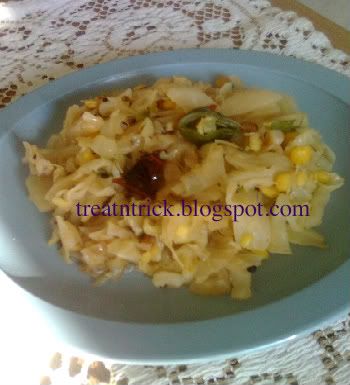 This is simple and healthy dish and not spicy at all. It is popular in South Indian meal. I'm not adding coconut but used chana dhal instead.
We should include cabbage in our diet, it contains least fat and calories, good source of fiber, vitamin C, potassium and other nutrients, reduces risk of heart disease and stroke.
INGREDIENTS
1 medium size cabbage sliced
1/2 C chana dal (soaked and boiled)
1/2 teaspoon ginger
1 teaspoon mustard seed
1 teaspoon urad dal
1/4 teaspoon turmeric
2 green chilli sliced
2 dry red chili
1 T cooking oil
salt to taste
curry leaves
DIRECTION
* Boil the chana dal until soft but still retain the shape, drain.
* Heat the oil, splutter the mustard seed, add urad dal fry until fragrant.
* Add green chili, dry chili, curry leaves, and ginger , stir for few minutes, add the cabbage, turmeric and salt. Stir and cover the pan for 10 minutes, stir occasionally .
* Once the cabbage is cooked, add chana dal, stir for few minutes, remove from heat.
Pennywise Platter Thursdays
Ultimate Recipe Swap
Simple Lives Thursday
Making It With Allie
Show Off Your Stuff
Thrilling Thursday
Look What I Made
Its A Keeper Thursday
Ttransformation Thursday
Just Another Meatless Monday
Midnight Maniac Meatless Monday
Monday Mania
Market Yourself Monday
Making World Cuter Monday