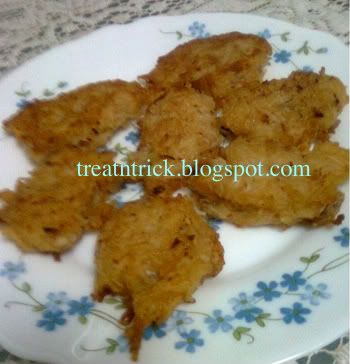 After having sweet snack most of the time, I decided to prepare this easy and delicious fritter made of vermicelli (semiya) for a change.
Boil the vermicelli for a few minutes until soft then drain. Be careful when adding water, batter should be thick and easily drop off from the spoon when you put them onto hot oil.You can either shallow or deep fry them. Either way it turns out great.
INGREDIENTS
1/2 cup boiled vermicelli
1 big onion chopped
2 green chili chopped
2 teaspoons chopped ginger
2 T chopped coriander leaves
4 T wheat flour
4 T corn flour
2 T rice flour
1 T oil
pinch of cooking soda
salt to taste
oil for frying
water
METHOD
* Mix all ingredients in a mixing bowl, gradually add water. Consistency of batter is thick but easily scoop out using spoon.
* Heat the oil, drop a tablespoonful of batter onto hot oil.
* Fry until it turns golden brown. Remove and drain on absorbent paper.
* Enjoy your delicious snack hot.
Pennywise Platter Thursday
Simple Lives Thursday
Ultimate Recipe Swap
Look What I Made
Transformation Thursday
Its A Keeper Thursday
Buzz On By Thursday