Before baking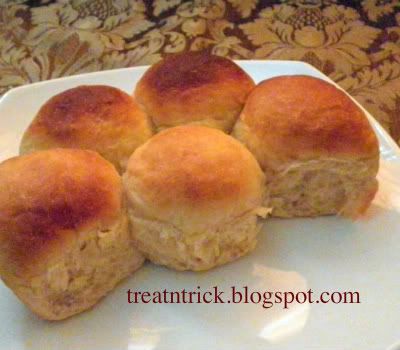 After baking
There is nothing more satisfying for me than making a successful batch of bread. Once you start to get the feel of making bread, you are addicted.
If you are new to bread-making, this is really good recipe to start with. It produces beautiful and fluffy bread though it takes more than 3 hours to bake them.
GOLDEN PULL APART BUTTER BUN
Adapted from King Arthur Flour
1 and 3/4 C all purpose flour
1 tsp instant yeast
1 and 1/2 TB dry milk
2 TB soft butter
1/4 C warm milk
1/3 C warm water
1 TB sugar
3/4 tsp salt
1-2 TB all purpose flour if needed
METHOD
Combine all ingredients in a mixing bowl. Mix and knead using hand, stand mixer of bread maker, to make a soft and smooth dough. If too sticky add 1-2 TB of flour.
Transfer onto floured board, knead for 10 minutes. Place onto greased and covered bowl, let rise until doubled for 1-1 and 1/2 hours.
Gently deflate the dough, divide into 8. Round each piece into smooth ball.
Place balls into greased 8 in round pan. Cover and let rise 60-90 minutes until puffy. Towards the end of rising time, preheat oven @ 180 C.
Bake for 25 minutes until golden brown. Remove from oven and brush with melted butter.
Cool on rack.
Linking to
Yeastspotting 9-16-11