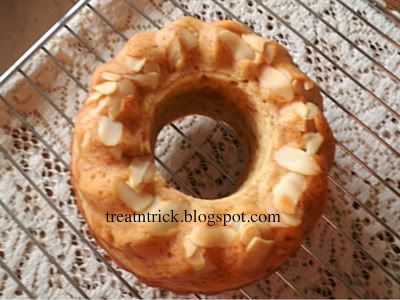 This banana bread is totally different from your regular quick bread since it contains yeast and takes a little bit longer time to prepare. It is worth to wait, this yeasted bread produces a more flavorful and beautiful bake.
It is so moist but importantly contains no egg, milk or nuts so is great for kids with allergies. Instead of adding chopped nuts to the dough, I have scattered silvered almonds on the base of the cake pan.
YEAST BANANA BREAD
Yield : One loaf
2 C all purpose flour
3 medium mashed banana
3/4 C brown sugar
1/2 C vegetable oil
1/2 C soy milk warm to touch
1 heaped tsp rapid rise yeast
1/2 tsp salt
1/4 C chopped nut (optional)
METHOD
Preheat oven @ 175 C. Grease loaf or round cake pan.
Place flour, yeast and brown sugar in a mixing bowl. Stir to mix.
Combine banana, soy milk, salt and oil,
Add banana mixture to dry ingredients. Stir until well blended.
Pour into prepared pan, cover and leave to rise 45 minutes or until doubled.
Bake for 25-30 minutes or until a skewer inserted comes out clean.
Let sit in the pan for 10 minutes then transfer onto rack to cool.
Linking to
Yeastspotting 8-26-11
Connect with me:
FACEBOOK /
YOU TUBE /
YOU TUBE
/
RSS
/
EMAIL
/
GOOGLE+