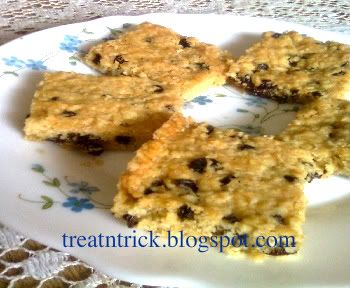 Trying for the first time to bake bar cookies, it turns out to be greatest hit with my family. It is soft, healthy and very pleasant taste, I bet you would love this bar once you tried it.
INGREDIENTS
2 cups rolled oat
1 cup all purpose flour
3/4 cup raisin
3/4 cup butter melted
3/4 cup sugar
1/2 teaspoon baking powder
1/4 cup milk
1 teaspoon vanilla essence
DIRECTION
1. Preheat oven to 170 C. Grease a 8 inches square pan and line with parchment paper.
2. Whisk together oat, flour, and baking powder.
3. Combine butter, sugar, essence and milk until well combined.
4. Mix together dry and wet ingredients, pour into prepared pan and level the top.
5. Bake for 25-30 minutes or until a skewer inserted comes out clean.
6. Remove and cool in the pan.
7. Cut into desired shape and store in an airtight container.
We Did It Wednesday
Real Food Wednesday
Whats Cooking Wednesday
Show And Tell
Make It Yours Day 47
66th Penny Pinching Party
WFMW
Making It With Allie
SYS Blog Link
Simple Lives Thursday 24
Thrilling Thursday
Crafty Soiree 18
Pennywise Platter Thursday
Ultimate Recipe Swap
Hookin Up With HOH 30