Curry puff is an all time favorite snack of Singapore/Malaysia, available throughout the day. Normally this pastry is filled with potato, chicken or sardine and is deep fried.
But now I tried a baked version with vegetables, carrots and green peas stuffing. You can choose whatever veggies available at home for the filling.
Baked Vegetable Puff
is a much healthier choice than the fried one and great way to have your snack or finger food.
The pastry I used here is not puff pastry but lighter with less fat. If you want more rich and buttery taste feel free to add more butter to the dough and adjusting the quantity of water accordingly.
BAKED VEGETABLE PUFF
Yield : 14 puffs
PASTRY
2 C all purpose flour
8 T butter
1/2 C cold water (adjust)
1/2 tsp salt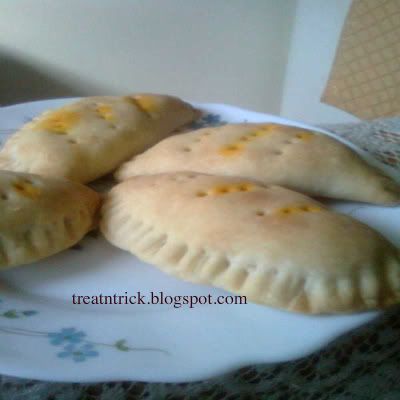 C = cup T = tablespoon
METHOD FOR PASTRY
Combine flour and salt in a mixing bowl. Add in butter, rub into flour using your fingertips until it resembles bread crumbs. Gradually add water until a soft dough is formed. Keep covered for 30 minutes.
Shape dough into small balls. Roll out each ball into round about half cm thick and stuff with one tablespoon filling. Seal the edges, press with fork. Prick the top with fork and apply butter. Bake 20-25 minutes in a preheated oven @ 180 C.
FILLING
1 C green peas cooked
2 medium carrot
1 Onion chopped
1 Tomato chopped
1 tsp coriander powder
1 tsp fennel powder
2 tsp chili powder
1/2 tsp turmeric powder
1 tsp ginger minced
salt to taste
1 T oil
METHOD FOR FILLING
Heat oil, fry the onion until translucent, add in ginger, salt and tomato, cook until tomato turns soft. Now add the spices, fry until fragrant. Add carrot and green peas, sprinkle few spoons of water and close the lid. Check for salt, remove and cool.
Connect with me:
FACEBOOK

/
PINTEREST
/
YOU TUBE

/
YOU TUBE
/
RSS
/
EMAIL
GOOGLE+
/
TWITTER