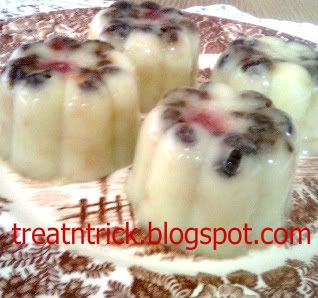 Love by young and old alike, jelly is such an easy dessert to make. Fill them with fresh fruits to encourage your kids to eat healthy and at the same time enjoy this healthy dessert. Using diced fresh water chestnut or else you could use other available fruit for making this dessert which is not very sweet yet so easy to prepare.
INGREDIENTS
1 pack (12g) agar2 powder
3 cups water
1 cup evaporated milk
250g sugar
3/4 cup water chestnut peel and dice
raisin and cherry for decoration
METHOD
1. Dissolve agar2 with 3 cups of water, add sugar and bring to boil over low heat.
2. Add diced water chestnut and evaporated milk, stir until boiling. Remove from fire.
3. Wet the mould with water then place raisin and cherry.
4. Pour the pudding on top of the dried fruit, allow to cool.
5. Refrigerate before serving.
Hearth And Soul 27
Tempt My Tummy Tuesday
Dr Laura's Tasty Tuesday
Tasty Tuesday
Delicious Dishes
Tuesday Night Supper Club
Slightly Indulgent Tuesday
Tip Me Tuesday
Take Look Tuesday
Tuesdays At Table
Delectable Tuesday
Made From Scratch
A Little Birdie Told Me
Amaze Me August
Just Another Meatless Monday
Midnight Maniac Meatless Mondays