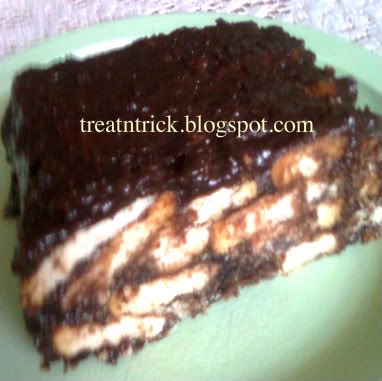 This is a most popular cake ever tried by my fellow bloggers. I came across various methods for preparing this cake.
Due to health reasons, I modified the recipe using slightly less butter and omitted the eggs. It turns out perfect, you can't really tell the difference. Using 5.5 sq inches container but if you are serving a big family do double up the quantity. Besides marie you can use semi sweet biscuit like digestive, morning coffee or nice biscuit for making this delicious treat.
INGREDIENTS
1/2 C sweetened condensed milk
2 T unsweetened cocoa powder
1 T heaped corn starch
1/4 C water
6 T butter
10-12 pieces Marie biscuit
METHOD
* Grease a shallow tray or line with plastic sheet for easy removal.
* Break each biscuit into quarter and set aside.
* In a small bowl, combine together corn starch and water, stir well.
* Using low heat, melt the butter in a saucepan, add the rest of ingredients except the biscuit, stir until thicken.
* Remove from heat, pour in the biscuit pieces, mix until biscuit is fully coated with chocolate.
* Pour onto greased tray and level top. After it comes to room temperature, place in a fridge to set.
* After 2 hours, cut into squares and enjoy your yummy dessert.
85th Penny Pinching Party
WFMW
Real Food Wednesday
Wow Us Wednesdays
Inspiration Friday
Friday Flair
Foodie Friday
SNS 81
Show And Tell
Friendly Friday
Spotlight Saturday
Sunday Showcase
Foodie Friday
Sundae Scoop
Inspire Me Fridays
Savory Sundays