It's my 200th post, would like to thank all blogger pals, followers, visitors and silent readers for regular visit and encouraging comments.
YOU MAKE THIS HAPPEN
, hope to receive your continued support.
Through this challenging journey, I have found wonderful friends like you and once again thanks to all.
For this special occasion, would like to share this simple and healthy bread.
RAISIN AND OAT BREAD
One of my favorite tea time dessert is quick bread. It is so simple and easy to prepare.
Used earl grey tea but other flavored tea like green tea, oolong tea works fine too. This is very healthy and you need not spend long hours to bake this wonderful bread. Let's see how to prepare them.
RAISIN & OAT BREAD RECIPE
1 and 1/2 C all purpose flour
1 C brown sugar
3/4 C raisin
1 C strong tea
1/4 C rolled oat
2 T melted butter
1 tsp baking soda
1/4 tsp salt
METHOD
* Preheat oven @ 175 C. Grease a loaf pan.
* Soak raisin in hot tea for 15 minutes.
* While still warm, add the baking soda butter and sugar, stir well.
* Blend in flour, oat to the raisin mixture, mix until well incorporated.
* Pour into greased loaf pan, bake for 30 minutes or until a skewer inserted comes out clean.
* Cool on pan for 10 minutes.
* Transfer into wire rack.
* Slice to serve. Enjoy!
AWARD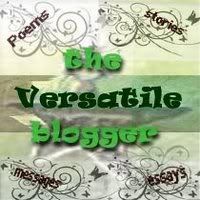 What a coincidence! Also received the following award from my blogger friends, thanks for sharing the award with me:
Veena Krishnakumar
Aipi
Fajeeda
Satrupa
Satya
Sreelekha Sumesh
I'm sharing this award with all bloggers, do post it in your blog.
Have a great weekend everyone!