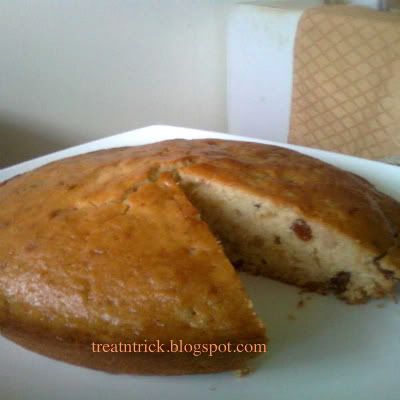 My son requested to bake a cake for our afternoon tea and for lunch boxes. Instead of buying from the store, decided to bake an easy cake using ingredients available in my pantry. The advantage of baking your own is that you can decide what goes inside, choosing a wholesome and better quality ingredients and make them healthier. My preference goes to easy method and as simple as possible
This is a great and quick cake to make, even tasted awesome without frosting. You can substitute with other fruit like apricot, cranberries or dates. Add more sugar for sweeter version. Here goes the recipe: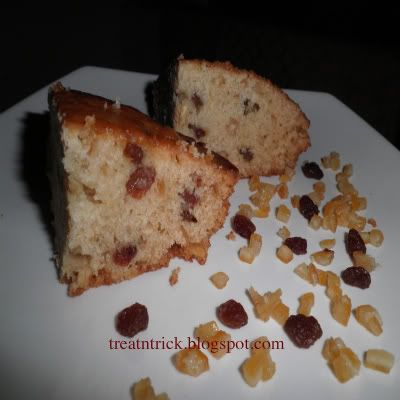 RAISIN CITRUS CAKE
Yield 7 in loaf
1 C all purpose flour
1/2 C whole wheat flour
3 T softened butter
1 C boiling water
1/2 tsp baking soda
1 tsp baking powder
1/4 C white/ brown sugar
1/2 C mixed citrus peel
1/2 C raisin
1/4 tsp salt
METHOD
Preheat oven @ 170 C and grease 7 in cake pan.
Combine butter, raisin, citrus peel and baking soda in a bowl. Pour in boiling water. Let sit 5 minutes.
Sift together flour, baking powder and salt. Now add the flour to the water mixture. Stir until well incorporated.
Pour onto prepared pan, bake for 20-25 minutes or until a skewer inserted comes out clean.
Leave in pan 5 minutes, transfer onto rack to cool. Enjoy!
Linking to
Citrus Contest