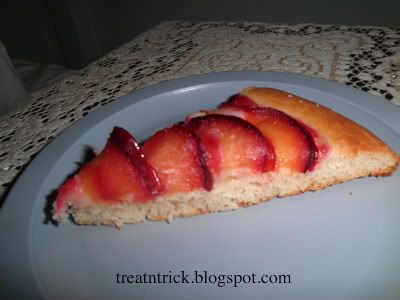 This amazing home made
Plum Pizza
has a mouthwatering taste. It has a delectable combination of flavors that are sweet and tangy. This delightful dessert uses pizza dough as its base and is not short crust pastry.
To avoid sogginess, brush butter and arrange the sliced plum just 5 minutes before you are about to bake them. Try this scrumptious dessert where everyone ask for second helping.
PLUM PIZZA
Yield 2-12 in pizza
3 C all purpose flour
2 tsp rapid rise yeast
2 TB sugar
2 TB dry milk
1 C warm water
5 TB softened butter
1 tsp salt
4 plums pitted and sliced
1/4 C sugar to sprinkle
Extra butter to apply on the dough
and brushing the plum
METHOD
* In a mixing bowl, combine water, butter, sugar, salt, yeast and dry milk.
* Add flour by a cupful and forms into soft dough.
* Transfer dough onto floured board, knead by hand at least 10 minutes or use your stand mixer until elastic.
* Place dough in a covered and oiled bowl, let rise until double about 1-2 hours.
* Divide dough into 2. Roll out into 12 in round about 1/4 in thick each. Prick the dough with fork, let sit for 30 minutes. Towards the end or rising time, preheat oven @ 190 C.
* Just 5 minutes before baking, apply the tops with butter, arrange plum wedges slightly overlapping to cover top of the dough. Sprinkle sugar evenly over top of each pizza. Brush plum with butter.
* Bake 20-25 minutes or until the edges turn golden brown. Cool on rack.
Linking to
Yeastspotting 4-1-11