These sweet and buttery cookies are always a favorite for not only you can tailor the shape but also dress them simply with granulated sugar or decorate them with your favorite frosting. They can be kept for several days in an airtight container. Adding corn flour ensures it has soft texture. Use softened butter and not easily spreadable ones for easy mixing.
These cookies are divine! They were delightful, crisp and crunchy on the outside but soft in the middle, full lemon flavor. Also great for parties and as a gift too.
LEMON COOKIES
Yield : 36 cookies
1 C all purpose flour
1/4 C corn flour
1/2 C butter
1/4 C + 2 TB powdered sugar
1 TB grated lemon rind
1 1/2 TB lemon juice
1/4 tsp salt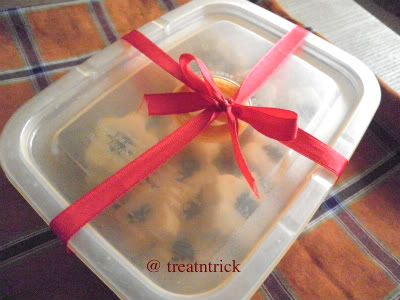 METHOD
Combine flour, corn flour and salt in a mixing bowl.
Cream butter and sugar, add lemon juice and lemon rind..
Gradually add flour to the butter, forms into soft dough. Preheat oven @ 160 C.
Pinch dough and shape into small balls or roll out dough 1/4 in thick and cut out shape using a cookie cutter. Place onto baking sheet.
Bake cookies for 30-35 minutes or until lightly browned.
Transfer and cool on rack..
Linking to
Packaged Biscuit
Linking to
Scent of Lemon
Connect with me:
FACEBOOK /
YOU TUBE /
YOU TUBE
/
RSS
/
EMAIL