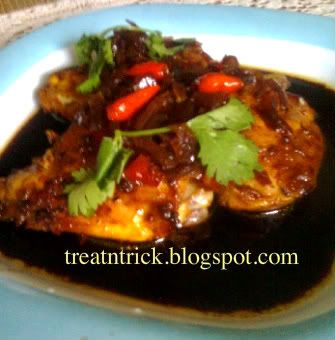 After having curry dishes all the time, felt must have a change to the way we are cooking and this dish came to my mind. Using bird's eye chili for extra kick, don't let the color alarmed you,it is truly delicious and pretty quick to prepare. You could adjust the spice level and the gravy needed according to your taste.
CHICKEN IN HOT SOY SAUCE
500 g (1 lb) chicken pieces
2 onions sliced
3 garlic minced
1 teaspoon ginger paste
1 stick cinnamon
1/2 cup water
1/2 cup sweet soy sauce
2 tablespoons lemon juice
7 bird's eye chili pounded
turmeric powder
salt and sugar to taste
oil
METHOD
* Coat the cleaned chicken with turmeric and salt, fry until half done.
* Heat the oil, fry the cinnamon, onion, ginger, garlic and bird's eye chili until fragrant, add water and soy sauce bring to boil.
* Add salt and sugar to taste. Now slide in the chicken pieces and simmer for a few minutes. Just before removing from heat add the lemon juice.
* Enjoy with hot steaming rice.
Connect with me:
FACEBOOK

/
INSTAGRAM
/
YOU TUBE

/
YOU TUBE
/
RSS
/
EMAIL
/
GOOGLE+
/
TWITTER