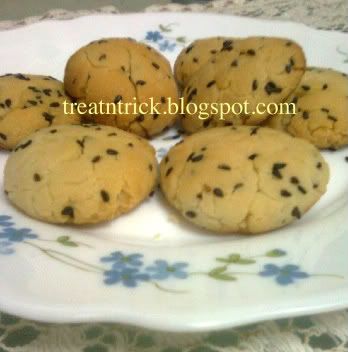 I'm on the look out for new cookies recipes. Never tried using condensed milk for baking.
At last decided to bake
Condensed Milk Cookies
and it turns out quite delicious, had cracks on top. Added black sesame seed but chopped nut or chocolate chip are best alternatives.
CONDENSED MILK COOKIES RECIPE
1 and 1/4 cups all purpose flour
80 g (1/2 cup) butter
90 g (1/3 cup) condensed milk
1/4 cup sugar
1/2 teaspoon baking powder
1/2 teaspoon vanilla essence
1/4 cup black sesame seed
METHOD
* Preheat oven @ 170 C.
* Sift flour and baking powder.
* Cream butter and sugar, add in condensed milk and vanilla essence.
* Add flour, baking powder and sesame seed, mix until well combined.
* Shape dough into small ball and flatten lightly. Place onto baking pan.
* Bake for 10 minutes and transfer into wire rack.
* When completely cool, store into airtight container.
Connect with me:
FACEBOOK

/
INSTAGRAM
/
YOU TUBE

/
YOU TUBE
/
RSS
/
EMAIL
/
GOOGLE+
/
TWITTER
/
PINTEREST