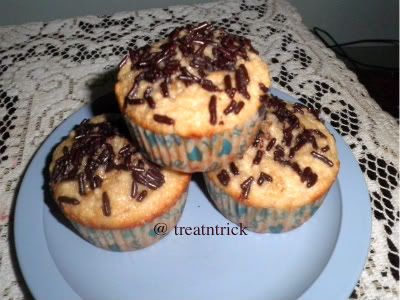 Muffin is a part of our regular breakfast and teatime snack we really enjoy. Not only it is fast to prepare but at the same time you can never fell bored to have it again and again each time with different and endless flavorings.
This time I had used buttermilk and oat which is nutritious and good for the heart too. If buttermilk isn't available at your place, you can make your own by mixing a cup of milk with a tablespoon of lemon juice/vinegar, stir and let sit for 15 minutes or until the milk is curdled, stir briskly, it is now ready to use.
So pleased with the result,
Buttermilk Oat Muffin
was moist and fluffy with right sweetness. I would highly recommend this if you have buttermilk to use up or just looking for an easy and flavorful muffin.
BUTTERMILK OAT MUFFIN
Yield : 12 muffin
1 C all purpose flour
1 C buttermilk
1 C rolled oat
3/4 C brown sugar
1/4 C melted butter
2 banana mashed
1 tsp baking powder
1/2 tsp baking soda
1/2 tsp salt
chocolate chip for garnish (optional)
METHOD
Preheat oven @ 190 C. Line muffin pan with cake cases.Sift flour, baking powder, baking soda and salt.
Soak oat in buttermilk for 10 minutes. Add butter and banana, stir until evenly combined.
Combine flour, sugar and butter milk, mix until just moistened.
Spoon onto lined muffin pan 3/4 full. Bake for 20 - 25 minutes or until a skewer inserted comes out clean.
Cool on pan 5 minutes. Transfer onto rack to cool.