Trifle is a cold dessert made of thick custard, fruit, sponge cake, fruit juice or gelatin and whipped cream. They are usually arranged in layer with fruit and sponge cake on the bottom, custard and cream on top. Now they have used brownies, muffin, crushed cookies, chocolate chip, toasted nut chocolate shaving and many more for layering this stunning desert..
I had used bread slices, banana, peaches and yogurt for this dessert. Use your imagination to create this yummy dessert. You can add more layer if using a taller glass.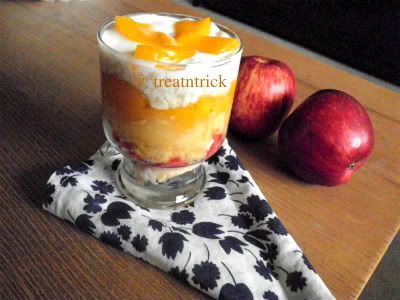 FRUITY BREAD TRIFLE
Serves : 2
4 slices bread white/wholemeal spread with butter and jam, cubed
2 medium banana mashed
1/2 - 3/4 C canned peaches chopped
150 ml yogurt
fruit syrup from the canned fruit
METHOD
Line bottom of a tall clear glass with bread cubes, drizzle with fruit syrup then layer with banana and peaches.
Top with yogurt, decorate with sliced peaches.
Chill in a refrigerator at least an hour before serving.
Linking to
Yeastspotting 6-10-11
Connect with me:
FACEBOOK

/
INSTAGRAM
/
YOU TUBE

/
YOU TUBE
/
RSS
/
EMAIL
/
GOOGLE+
/
TWITTER / PINTEREST