These rolls can be created using any of your favorite sweet bread recipe. It takes a few minutes to shape something special for dinner or entertaining . These single size rolls saving you from worrying about crumbs from cutting.
You can also coat them with icing sugar after they have been baked. I must tell you that these rolls were yummy, buttery and chewy!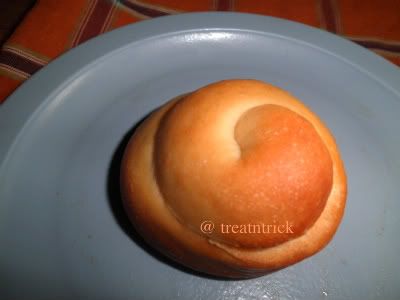 SPIRAL ROLLS
Yield : 10 rolls
2 cup all purpose flour
1 1/2 tsp rapid rise yeast
2 tablespoon dry milk powder
1/4 cup sugar
1/2 tsp salt
1/2 cup warm water
2 tablespoon oil
60 g softened butter
powdered sugar (optional)
METHOD
Place flour, dry milk, yeast. sugar, salt and oil in a mixing bowl.
Make a well , pour the water, mix and forms into a dough. If too dry, add 1-2 tablespoons of water.
Transfer onto a floured board, knead by hand for 10 minutes of use your stand mixer. Transfer onto oiled and covered bowl, let rise 2 hours or until doubled in size.
Lightly punch the dough, roll out into rectangle, apply melted butter then cut into 10 strips. Roll each strip between hands to create a 8 in rope, form into tight spiral. Tuck outer end piece under the roll. Place onto baking sheet.Complete with the rest of the dough. Cover and leave to rise 1 hour. Towards the end of rising time. preheat oven @ 180 C.
Bake for 15-20 minutes or until golden brown. Brush with melted butter and sprinkle with sugar (optional). Cool on rack.
Linking to
Aspiring Bakers 8
Yeastspotting 6-17-11
Connect with me:
FACEBOOK

/
INSTAGRAM
/
YOU TUBE

/
YOU TUBE
/
RSS
/
EMAIL
/
GOOGLE+
/
TWITTER / PINTEREST