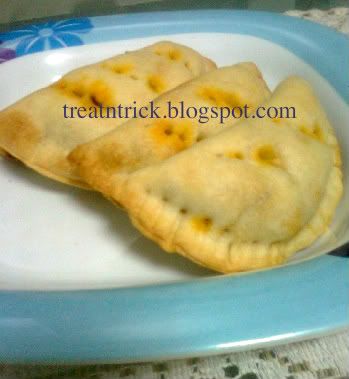 This is probably the most famous snack in South East Asia, normally deep fried with savory filling consisting of potato, chicken, beef or egg. Curry puffs are made of two parts one is the pastry and the other the filling. The pastry I have tried remains soft the next day and is less fattening compared to other recipes found on the net. Hence it is my choice in case we are craving for curry puff. For vegan, do omit the meat for the stuffing and just brush the puff with butter before baking.
Do take care when adding salt since the butter is already salted and gradually add the water until a pliable dough is obtained.
INGREDIENTS
PASTRY
2 cups sifted plain flour
6 tablespoons butter melted
salt to taste
water
1 egg for glaze
FILLING
5 medium size potatoes cubed
200g chicken or beef minced (optional)
3 tablespoons meat curry powder
1 tablespoon chili powder (adjust to taste)
2 big onion chopped
2 cloves garlic minced
1 teaspoon ginger paste
2 tablespoons cooking oil
salt to taste
coriander leaves
water
METHOD
PASTRY
* Combine plain flour, salt and butter in a mixing bowl, mix together until resembles fine bread crumbs..
* Gradually add cold water to form into a pliable dough. Chill for 30 minutes.
FILLING
* Heat the oil, fry onion until light brown, add ginger and garlic, cook until fragrant.
* Add curry powder and little water, stir for a few minutes.
* Now add the potato, meat (if using), coriander leaves, salt and water. Water level should be above the potato, stir occasionally and cook until potato turns soft and dry. Remove and cool.
TO ASSEMBLE
* Shape the dough into 1/4 cm thick and cut into a round using 3 inches round pastry cutter and stuff with a tablespoon of filling. Seal the edges and press with a fork. Poke the surface with a fork too. Continue with the rest of the dough.
* Place the puff on baking tray and apply the egg wash.
* Bake for 15-20 minutes in a preheated oven @ 180 C until the edges turn brown.
* Remove and it is ready to be served.
Everything But Kitchen Sink
Fantabulous Friday
Crafty Friday
Fat Camp Friday
GCC Recipe Swap
Friday Link Party
Favorite Things Friday
FFA Friday
Follow Friday 40
Friendly Friday
Hop Along Friday
Food Fight Friday
Fun w/ Food
Foodie Friday
86th Penny Pinching Party