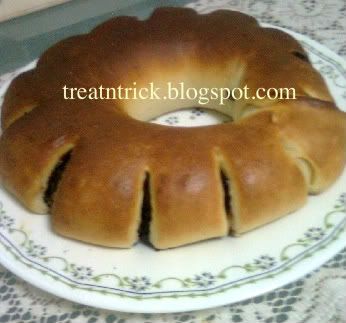 I love baking bread, it is soothing and great satisfaction for me and not to mention the end result is so much better than buying ones at the store. Baked this for our breakfast, it's quite similar to cinnamon rolls but for this bread we shaped into ring by joining the two ends, sprinkle with chocolate rice or chocolate chip and sugar after spreading the butter. It tasted wonderful and mildly sweet taste. Stay tuned for my next baking project..
INGREDIENTS
3 cups all purpose flour
5 tablespoons melted butter
2 teaspoons dry yeast
4 tablespoons sugar
1 cup warm milk
1/2 cup warm water
1 teaspoon salt
FILLING
3 tablespoons butter
2 tablespoons sugar
4 tablespoons chocolate chip/rice
METHOD
* Combine yeast and 2 tablespoons sugar with warm water and leave for 10 minutes or until frothy,
* In a mixing bowl, add flour, butter, remaining sugar, salt, milk and yeast mixture. Knead for at least 10 minutes or use stand mixer until smooth and elastic.
* Keep the dough covered for 1 and 1/2 hours or until double in a greased bowl.
* Deflate the dough, roll into 15 x 10 inches rectangle and spread with the filling. Roll up and join the two ends, seam-side down. Using sharp knife cut slits at 1 inch interval around the ring and let rise again for 45 minutes.
* Preheat oven at 350F (175C) towards the end of raising time. Brush top with butter and bake for 15 minutes until golden brown. Brush again with butter after removing from the oven.
This goes to
Hearth & Soul Volume 15
Bookmarked Recipes Every Tuesday
Tempt My Tummy Tuesday
Tasty Tuesday
Show Me How Week 16
Tasty Tuesdays Bloghop
Slightly Indulgent Tuesday
Hop Along Friday
Show And Tell Saturday
SNS 68
Everything But Kitchen Sink
Hookin Up With HoH 36
Crafty Friday
Not Baaad Blog Hop
Foodie Friday
Inspiration Friday
Friday Flair
Sunday Showcase