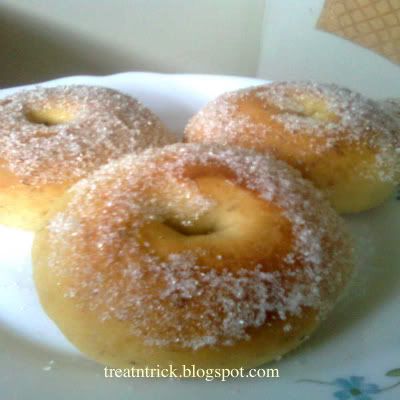 This weekend my sons requested me to bake a donut. We used to purchase the fried version from a nearby bakery some time ago.
After seeing my fully riped bananas, I was thinking why not bake up something yummy with this fruit. Glad I did, these are fluffy and a big hit with my kids. At least I have served them what they wanted, they really enjoyed having this healthy and low calories donuts compared with the full fat one.
If you found the dough too sticky to work with, add a tablespoon or two flour. When creating the hole, make it bigger otherwise it shrinks at the time of baking. You can also use your donut cutter if you want.
BAKED BANANA DONUTS
Yield : 10 donuts
2 C bread flour/ all purpose flour
2 T melted butter
1/4 C warm milk
2 tsp dry yeast
2 T sugar
2 mashed banana
1/2 tsp salt
COATING
3 T melted butter
1/4 cup sugar
METHOD
* In a small bowl, combine dry yeast, sugar and milk, leave for 10 minutes until frothy.
* Place flour, salt, melted butter and mashed bananas in a mixing bowl, add in yeast mixture and forms into pliable dough.
* Transfer dough onto floured board, knead for 10 minutes until elastic. Place dough into oiled bowl, keep covered for 2 hours.
* Punch dough to release air, divide into 10 balls. Cut out the center of each dough round to make donuts and donut hole. Place them into pan and let rise for 60 minutes. Towards the end of raising time, preheat oven @ 190 C.
* Apply melted butter on top, bake for 15-20 minutes or until golden brown.
* Immediately after baking, brush again with butter and coat with fine sugar on top.
Linking to
Yeastspotting 11-26-10
Linking to
Recipes using Flour