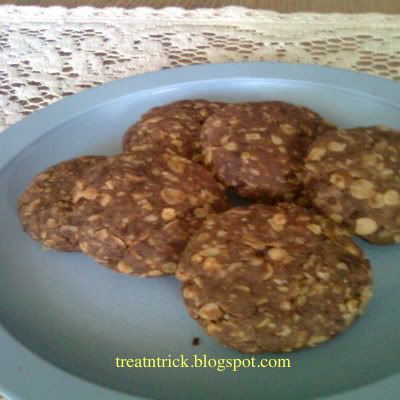 Do you have friends or family coming to visit? Treat them to some delicious and relatively healthy Chocolate Oatmeal Cookies for dessert. This recipe is very simple and not time consuming to whip up.
These are healthy, fiber packed, indulgent and delicious! Another tip, you must let them sit about 5 minutes in a pan after baking since they tend to break and still very soft before transferring them onto rack to cool. They are crunchy outside but chewy inside, great for morning tea or afternoon snack too.
CHOCOLATE OATMEAL COOKIES
Yield 27 cookies
3/4 C all purpose flour
1 C rolled oat
2 T unsweetened cocoa
1/2 C butter
1 tsp baking powder
1/2 tsp salt
3/4 C brown sugar
1/2 C chocolate chip
1/2 tsp vanilla extract
METHOD
Preheat oven @ 170 C. Sift flour, cocoa and baking powder.
Cream butter, vanilla, salt and sugar until well combined.
Stir in flour, sugar and cocoa, mix in oat and chocolate chip. Mix well.
Roll into small ball then flatten slightly and place onto baking pan.
Bake for 10 minutes. Leave on pan 5 minutes before removing onto rack to cool.
Store in airtight container when completely cool.