Maharani Chicken
is one of the recipes by Asmah Laili. She is former popular DJ turned cookbook author and her recipes always seem to work not only for me but those who had tried her recipes. I have altered slightly to suit my taste and you should do so if you want a milder gravy.
Here, meat curry powder is used or you can also use your own combination of coriander powder, aniseed, cumin, chili powder and turmeric also I double up the tomato puree.
Maharani Chicken
It is so tasty and excellent with flavored rice, flat bread or even bread.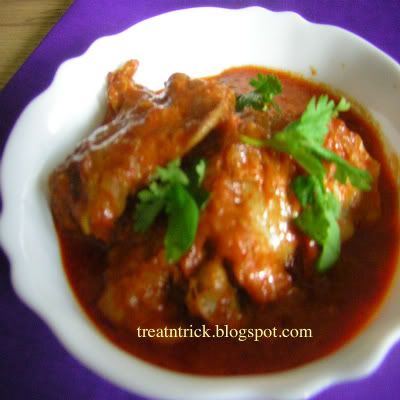 MAHARANI CHICKEN
Serving : 4 - 6 persons
1 whole chicken cut, washed and drained
1 tsp turmeric powder
1 tsp ground black pepper
salt to taste
A Grind to a paste
5 Onion
10 green chili
5 red chili
1 Tomato
2 tablespoon tomato puree
1 in ginger
8 cloves garlic
2 tablespoon meat curry powder
1 tsp garam masala
B To be blended
1/4 cup yogurt
1/4 cup coconut milk
1 cup water
10 cashew
C
2 bay leaf
5 cm cinnamon
5 cardamom
1/2 cup mint leaves
1/2 cup coriander leaf
1/2 cup fried shallots
1/2 cup coriander leaf for garnish
salt to taste
1/4 cup oil
METHOD
* Marinate chicken with turmeric, pepper and salt. Fry chicken and keep aside.
* Heat oil, saute bay leaf, cinnamon, cardamom till fragrant. Add A, fry until thick and fragrant.
* Add in mint, coriander leaves, item B, salt, add more water if necessary, bring to boil.
* Now add the chicken and cook until chicken is tender using medium heat, stirring in between.
* Remove from heat. Garnish with coriander leaves and fried shallot at the time of serving
Source : Asmah Laili
Connect with me: