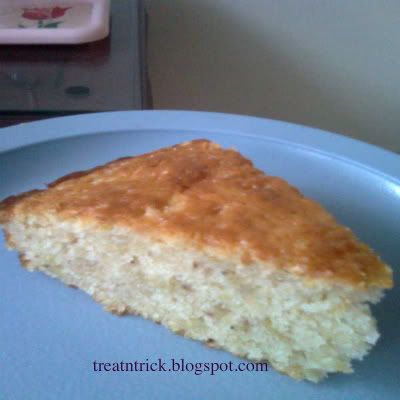 Another banana cake? You might wonder why I'm repeatedly baking the same cake. But it is not the same, method and ingredients slightly differ. I have tried more than a dozen of them but this recipe is simply the best. Perfect taste and lovely texture. You have to try them to believe. Such an easy peasy banana cake with wonderful result.
EASY BANANA CAKE
Yield One 7 in loaf
1 C self raising flour
4 banana mashed
1/2 C sugar
1/4 C oil
1/4 C milk
1/4 tsp vanilla extract
METHOD
Preheat oven @ 180 C and grease 7in pan. Combine flour and sugar in a mixing bowl. Add in banana, vanilla, oil and milk. Stir until well combined. Pour into prepared pan. Bake for 30 minutes or until a skewer inserted comes out clean. Cool on rack. Slice when completely cool.
Linking to
What I Put In My Basket