Adding a pumpkin to a dinner rolls will produce a bread that is slightly sweet and wonderfully rich. So I looked for a recipe on the net, decided to bake the pumpkin rolls from scratch. I halved the recipe and omitted the spices except added only ground cinnamon.
Pumpkin Dinner Rolls
taste amazing but incredibly sticky. Make sure you add a bit more flour if needed. For best result either steam or bake the pumpkin if you're making your own puree.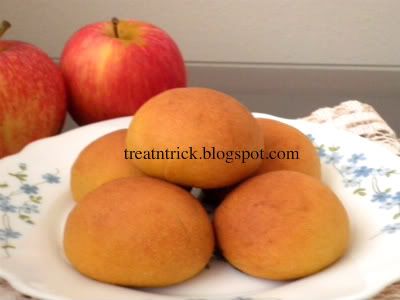 PUMPKIN DINNER ROLLS
Yield : 10 rolls
Adapted from this
site
.
2 and 1/2 C bread flour
1/2 C warm milk
4 TB softened butter
1/2 C pumpkin puree
2 TB sugar
1/2 tsp ground cinnamon
1/2 TB rapid rise yeast
3/4 tsp salt
2 TB melted butter
METHOD
Combine flour, sugar and yeast in a mixing bowl.
Add in pumpkin, butter, salt, cinnamon and warm milk, forms into a dough.
Knead by hand for 10 minutes or use your stand mixer.
Place dough in an oiled bowl, cover and allow to rise for 1 -2 hours until doubled.
Divide dough into 10 balls and place onto baking pan. After the roll has risen for 45 minutes, preheat oven @ 180 C.
Brush the tops of the rolls with melted butter. Bake for 25-30 minutes until golden brown. Remove from oven and apply with remaining melted butter, transfer onto rack to cool.
Linking to
Yeastspotting 7-15-11
Connect with me: