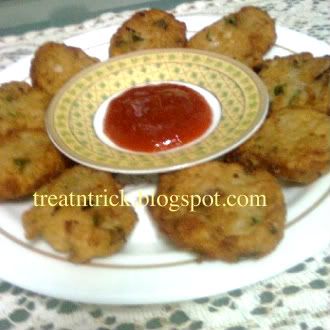 Quite some time we had savoury fritters and this recipe by Zu's kitchen caught my attention. This is similar to bonda which is popular snack from South India. Bonda could be made with potato or other vegetables of your choice. Made it without egg but original one called for two small eggs. It's so flavorful and tasty, most importantly saving my bread from wastage.
INGREDIENTS
7 slices bread
4 tablespoons corn flour
2/3 cup water
2 medium onions chopped
2 tablespoons coriander leaves chopped (
added by me
)
1 teaspoon ginger chopped (
added by me
)
salt and pepper to taste
cooking oil
METHOD
* Soak bread with 2/3 cup of water for few minutes. Crumble the bread with a fork.
* Now add onion, coriander leaves, salt, pepper, cornflour and 2 tablespoons water, mix well.
* Drop a tablespoonful of batter into hot oil, fry until golden brown.
* Remove and place on kitchen towel to absorb the oil.
* Serve hot with chili sauce or chutney of your choice.
Source : Zu's Kitchen
Foodie Friday
Recipe Linky
Frugal Friday
Its Hodgepodge Friday
I'm Lovin' It
Frugalicious Friday
Friday Potluck
FTF
Everything But Kitchen Sink
Fantabulous Friday
Crafty Friday
Creative Friday
Made With Love
Mad Skills Party
88th Penny Pinching Party
WFMW
Wow Us Wednesdays.
Connect with me:
FACEBOOK /
YOU TUBE /
YOU TUBE
/
RSS
/
EMAIL
/
GOOGLE+
/
TWITTER