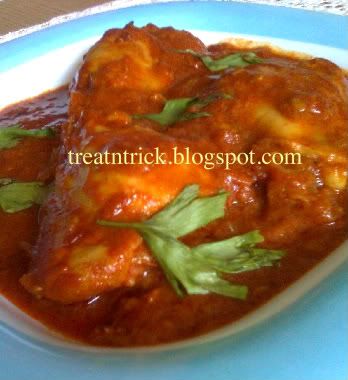 Hello everyone, how do you do? Hope everything are fine...
Another chicken dish to go along with tomato rice if not it's a great dip with bread, naan or prata. This dish does not use curry powder at all but used blended dry chili which is the most important ingredient along with chopped tomatoes thus resulting an attractive red color. Do adjust the chili used according to your taste.
INGREDIENTS
500g (1 lb) chicken pieces
2 cardamoms
1 stick cinnamon
2 tomatoes chopped
2 big onion sliced
3 tablespoons chili paste
1 tablespoon ginger and garlic paste
3 tablespoons oil
coriander leaf for garnish
salt and lemon juice to marinate
1/2 teaspoon turmeric powder
METHOD
1. Marinate the chicken with salt, lemon juice and turmeric.
2. Heat the oil, fry cardamom, cinnamon followed by onion until fragrant.
3. Add in ginger, garlic and tomato, fry until soft. Now add the chili paste, stir until the oil floats on top.
4. Pour the chicken pieces, stir and cover the pot.
5. Water could be added if you want more gravy, once chicken is soft remove from heat, sprinkle the coriander leaves. Enjoy.....
Tempt My Tummy Tuesday
Slightly Indulgent Tuesday
Take Look Tuesday
Homemade Projects
Tuesday Night Supper Club
Tutorial Tuesday
Anti Procrastination Tuesday
Show Me What Ya Got
Made From Scratch
Delectable Tuesday
Amaze Me August