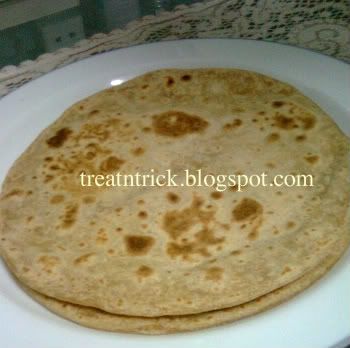 My friend Nina has requested a recipe for chapati. She used to go all the way to Little India once in a week just to enjoy it.
Hope she will try to make her own successfully. Just be cautious with water, add gradually to form a soft and pliable dough. This flat bread is best eaten hot with keema (spicy minced meat with vegetable), spicy thick curry or lentil gravy. Don't worry if you couldn't get the perfect round shape, for good results use heavy cast iron pan, it distributes heat evenly and produces beautiful color. Happy cooking.
INGREDIENTS
2 cups whole wheat flour
3/4 - 1 cup warm water
1/2 teaspoon salt
2 tablespoon oil
extra flour for dusting
ghee to apply on top (optional)
METHOD
* Place the flour, salt and oil in a mixing bowl.
* Gradually add the water, need not to use all, knead well to form into pliable dough, keep for one hour.
* Divide dough into 4 ball. Using rolling pin form into circle about 1/8 inch thick.
* Heat the cast iron pan, fry until brown spot appears then flip and cook the other side. Flip again, press the edges with clean towel, the chapati will begin to puff up. Repeat the same with the rest of the dough.
* Remove and apply ghee if required.
If you want to try
Keema
follow this link:
http://treatntrick.blogspot.com/2009/11/keema.html
79th Penny Pinching Party
WFMW
Whatever Goes Wednesday
Creative Share
Sugar & Spice
Whats Cooking Wednesday
Linky Party
Real Food Wednesday
Made It On Monday