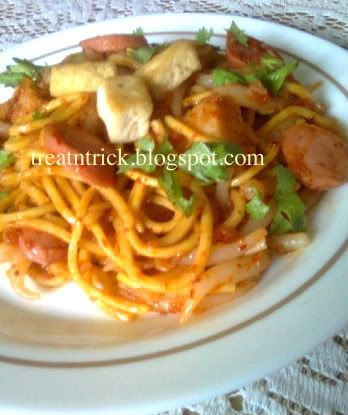 We had a change of plan, I was supposedly not cooking today since my children are away but got a call that their original plans were cancelled and was requested to cook something fast and easy.
Immediately went to my kitchen and checked what I have in my fridge. Cooked this
Mee Goreng II
without usual meat, seafood and vegetable.
Surprisingly turned out delicious and received compliments from my children. Really happy to see it gone in no time.
MEE GORENG II RECIPE
800 g yellow noodle
3 T chili paste
4 medium tomatoes chopped
3 cloves garlic minced
2 big onion sliced
5 chicken sausage cut into small pcs
12 fish balls halved
1/2 T sweet soya sauce
2 T tomato sauce
3 T cooking oil
salt to taste
3 firm tofu cubed and fried
T = tablespoon
METHOD
* Heat the oil, fry onion until light brown, add in garlic, fry until fragrant.
* Now add the tomatoes, cook until tomato turns soft. Add chili paste, soy sauce, tomato sauce and salt. Stir for few minutes, add sausages and fish ball, mix well.
* Add the noodle and tofu, mixing all ingredients well. Serve immediately.
Have a great weekend everyone!!
Connect with me:
FACEBOOK

/
INSTAGRAM
/
YOU TUBE

/
YOU TUBE
/
RSS
/
EMAIL
/
GOOGLE+
/
TWITTER
/
PINTEREST