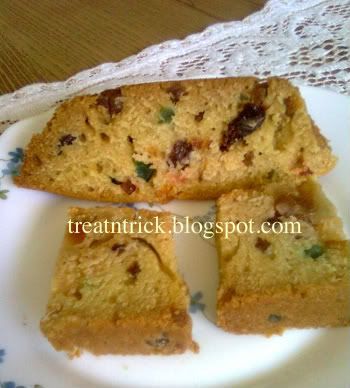 My sons are having late nights watching World Cup 2010 so they need tidbit while watching their favorite game.
After searching the net, stumbled upon this cake, it's very easy to prepare and what you need is a pan or pot to boil the ingredients. The cake came out perfect and not very sweet, the way I love it. If you want to try, here is the recipe:
INGREDIENTS
2 C all purpose flour
1 C fruit mix (tutti fruti)
1 and 1/2 C water
1/2 C butter
3/4 C sugar
1/2 teaspoon baking soda
METHOD
* Put butter, fruit mix, sugar and water in a deep pot, bring to boil and cool.
* Preheat oven @ 150 C, while still warm add baking soda to the mixture, alternating with the flour.
* Pour onto 8 inches greased pan, bake for 25-30 minutes or a skewer inserted comes out clean.
* Cool on pan for 10 minutes and transfer onto wire rack.
* Slice and enjoy with a cup of tea.
Midnight Mania Meatless Mondays
Monday Mania
Just Another Meatless Monday
Motivate Me Monday
Market Yourself Monday
Amaze Me Monday
M.M.M. Day
Mangia Mondays
Making World Cuter
Made By You
Craft-O-Maniac Monday
Mad Skills
Mouthwatering Monday
This- Weeks Cravings