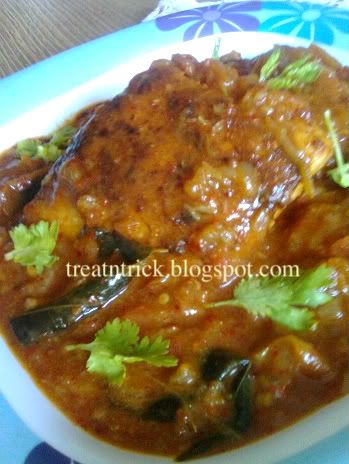 After searching through the net about this vindaloo, I came across few versions of making this dish, one with tamarind and another one without. Tried this dish with tamarind and it turns out slightly darker tone compared with the other style. Overall it has tangy and spicy taste and not so overpowering with vinegar, my family loved them so much.
This is what I have used, you could adjust the quantity of chili and vinegar according to your taste. After all cooking is about experimenting and getting the taste right to our taste bud. If you want to try, here is the recipe :
INGREDIENTS
500g ( 1 lb) fish slices
2 onions chopped
2 tomatoes chopped
2 T chili powder
1/2 teaspoon turmeric powder
1 T cumin powder
1 T tamarind paste
1/2 cup water
2 teaspoons ginger garlic paste
1/2 teaspoon mustard seed
1 sprig curry leaves
3 T cooking oil
2 T vinegar
coriander leaves
METHOD
* Clean the fish and coat with little turmeric, chili powder and salt. Lightly fry them. Mix tamarind paste with water, strain to obtain juice.
* Heat the oil, splutter the mustard seed, add onion, fry until light brown.
* Add ginger garlic paste and curry leaves, stir for few minutes then add tomato with salt, cook until tomato turns soft.
* Now add the chili, cumin, turmeric powder and tamarind juice, cook until fragrant.
* Add in fish, vinegar and salt if required, stir until fish is fully coated with the spices.
* Remove and sprinkle with coriander leaves.
80th Penny Pinching Party
Real Food Wednesday
Whatever Goes Wednesday
We Did It Wednesday
Whats Cooking Wednesday
Creative- Share Features
Show And Tell
Wow Us Wednesdays
Make It Yours