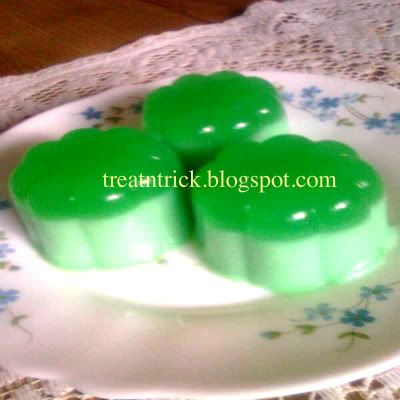 As requested my by son, I have prepared this popular jelly using agar2 powder. Really refreshing and yummy. If you are unfamiliar with agar2 powder, do check out
here
. Agar is the best substitute of gelatin and as thickening agent for custards, sauces, puddings and candies.
This jelly is simple to prepare and much healthier than the egg and cream type. What you need is to stir the mixture of agar2 powder, sugar and coconut milk until boiling and thicken, pour into your favorite mould and once it comes to room temperature place them in a refrigerator to chill.
Beside coconut milk, you can add canned fruit, corn, cocoa or even fruit juice to the jelly, the choice is endless, just use your imagination to explore this versatile dessert.
This handwritten recipe is my family favorite dessert. It was given by my aunt and I have made them on regular basis when we need a dessert in a jiffy.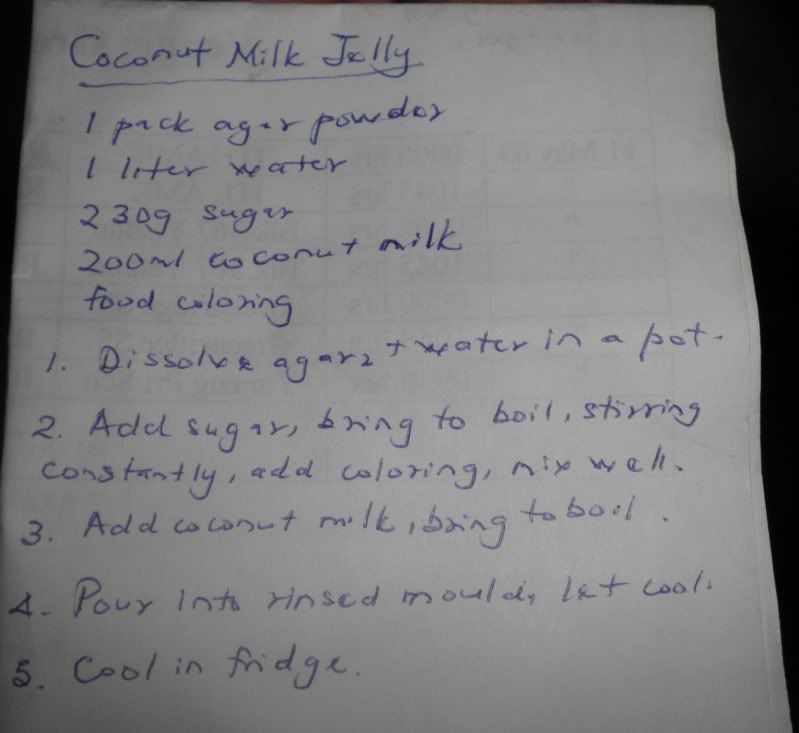 INGREDIENTS
1 pack of 12g agar2 powder
1 liter water
230g sugar
200 ml coconut milk
food coloring
jelly mould
METHOD
* Dissolve the agar2 powder with one liter of water in a deep pot.
* Add sugar and bring to boil, stirring constantly, add a drop of food coloring, mixed well.
* Now add the coconut milk and bring to boil again.
* Pour into rinsed jelly mould and let them come to room temperature.
* Place the jelly in a refrigerator to cool.
* Serve cool.
This goes to
Give Me The Recipe