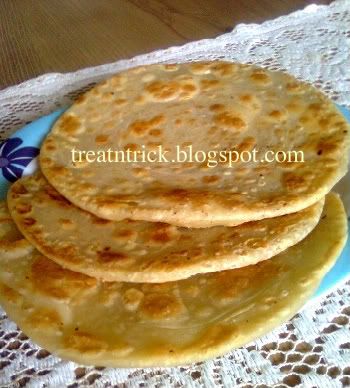 This flat bread is once on demand in early 80's during holy month of Ramadan, it was on sale during this particular month only but now it's no longer available.
Since the fasting month is just around the corner, I tried this and it turns out excellent. This bread now becomes our new favorite on our dinner table.
Care should be taken, when adding water, do not pour all but little at a time until a soft pliable dough is obtained. Another tip is, the dough requires at least 10 minutes of kneading than only the bread will be soft. I did without egg too.
ROTI MARIAM
Yield : 4
INGREDIENTS
2 cup plain flour
1 tablespoon melted butter
1.5 tablespoon cooking oil
1/4 cup warm water (not to finish all)
oil for frying
1 egg (optional)
1/2 tsp salt
METHOD
* Put the flour, butter, oil, egg (if using) and salt into a mixing bowl.
* Gradually add warm water to form a soft pliable dough. Knead about 10 minutes.
* Divide dough into 4 balls. Roll each ball into round pancake about 1/4 inch thick.
* Deep fry or shallow fry until golden brown.
* Remove and drain with absorbent paper. Repeat with the rest of the dough.
* Serve hot with your favorite gravy.
Connect with me: