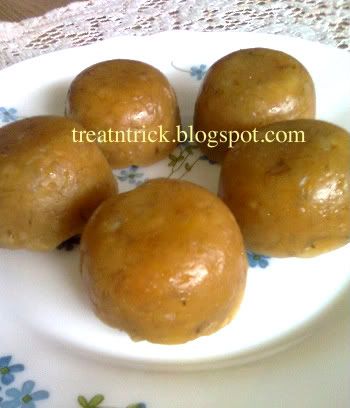 For very long time I have eaten this traditional kuih of Malaysia/Singapore, made of bananas and wheat flour. If you have over ripe bananas you should try this, simple and healthy. Normally they are wrapped in banana leaf but I'm using small cups instead.
If you want more healthier version use 2 tablespoons milk powder instead of coconut milk, the rest just follow the recipe below and steam for 25 minutes.
LEPAT PISANG
INGREDIENTS
1 cup mashed bananas
1 cup all purpose flour
1 tablespoon rice flour
2 tablespoon sugar
2 tablespoon coconut milk
1/2 teaspoon salt
steamer
small plastic cups
METHOD
* Boil 2 inches deep of water in a steamer.
* Place all the ingredients in a mixing bowl, mix well.
* Brush the cups with oil, fill in the dough 3/4 full.
* Using medium heat, steam for 25 minutes.
* Remove and cool before removing onto a serving plate.
* Ready to serve. Enjoy!
Linking to
100% Original Recipe Contest
Connect with me:
FACEBOOK /
YOU TUBE /
YOU TUBE
/
RSS
/
EMAIL
/
GOOGLE+
/
TWITTER