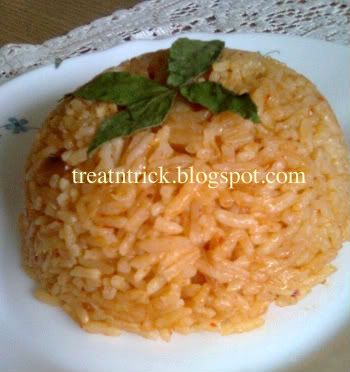 There are so many ways to cook tomato rice but my choice goes to this recipe, simply fantastic.
When using tomato puree make sure you taste first before adding since certain brands are fully concentrated and adding too much will make the rice overly sour and spoil the taste of this yummy rice..
You could use basmati rice but that requires soaking for about 30 minutes before hand. The water level should be 1 inch above the rice. Let's cook...
INGREDIENTS
2 cups long grain rice/basmati
2 green chili slit
1 onion chopped
1/2 cup tomato puree
1/2 tablespoon ginger garlic paste
1/2 tablespoon chili powder
4 tablespoon butter or oil
1/4 teaspoon turmeric powder
2 T chopped coriander leaves
1 stick cinnamon
2 cardamoms
salt to taste
4 cup water
METHOD
* Heat the oil, fry cinnamon, cardamom and onion until light brown. Add ginger garlic paste, green chili and coriander leaves, cook until fragrant.
* Now add the tomato puree, chili powder, turmeric and salt, stir until well blended.
* Transfer this onto rice cooker, add rice and required water to cook the rice, on the switch.
* Rice is ready to eat with your favorite curry. Enjoy!
Linking to
100% Original Recipe Contest
March's Iron Chef Challenge
Connect with me:
FACEBOOK /
YOU TUBE /
YOU TUBE
/
RSS
/
EMAIL
/
GOOGLE+
/
TWITTER