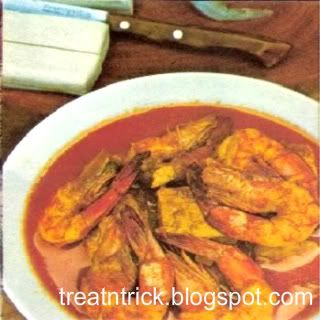 Tofu is one of the healthiest food on earth. It has no cholesterol and low in saturated fat. It contains rich source of protein. Women with diets high in soy protein appear to have low rates of breast cancer, reduce the risk of heart diseases and colon cancer.
It is so beneficial by consuming the tofu and we should include them in our diet. For vegetarian version do omit the prawn. The amount of red chili is variable to your preference. Here is the recipe for
Prawn and Tofu Curry
:
PRAWN AND TOFU CURRY RECIPE
6 tofu squares, hard type. cut into 4
15 medium size prawn
2 red tomatoes cut into wedges
2 cups coconut milk
TO BE GROUND
8 red chillies
4 candle nuts
1 stalk lemon grass
1 inch fresh turmeric
12 shallots
1 teaspoon shrimp paste
3 teaspoons curry powder
4 tablespoons oil
salt to taste
METHOD
1. Heat oil, fry ground ingredients, little water and curry powder till fragrant.
2. Add coconut milk and salt, stir until boiling.
3. Pour tofu onto the gravy, simmer about 15 minutes.
4. Now add the prawn, tomato and salt if needed till the prawn is cooked, stirring carefully not to break the tofu pieces.
5. Ready to be served.
Connect with me:
FACEBOOK

/
PINTEREST
/
YOU TUBE

/
YOU TUBE
/
RSS
/
EMAIL
GOOGLE+
/
TWITTER