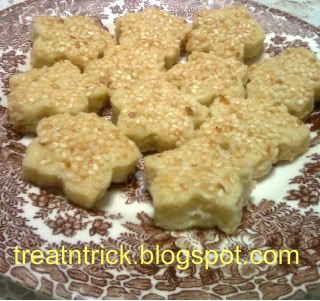 One of my favorite cookies, if you are like me prefer not so sweet biscuit this
Sesame Cookies
are for you to try out, very crunchy and eggless too. You can shape it into the ball then flatten or use desired cookies cutter of your choice. Do take note, the dough must be placed in between the plastic sheet to avoid sticking to the board. If the dough is a bit sticky to work with, add a tablespoon or two flour.
SESAME COOKIES RECIPE
1 3/4 cups all purpose flour
1/2 cup butter softened
1/2 cup sugar
1/2 cup roasted sesame seeds
1 teaspoon baking powder
1 teaspoon vanilla essence
Extra sesame for sprinkling on top
METHOD
1. Preheat oven at 175C (350 degrees).
2. Sift flour and baking powder then add sesame seeds.
3. Cream butter and sugar until creamy, add flour and vanilla essence, mix well.
4. Shape into ball then flatten it or use desired cookies cutter.
5. Sprinkle sesame seed on top then press gently so the sesame seed would stick to the cookies.
6. Bake for 10-15 minutes or until lightly toasted.
7. Cool completely before storing in an airtight container.