Chicken was always a favorite for everyone. There were tons of ways to cook chicken. Am always on look out to try any new recipes to serve my family.
I came across this unique dish by famous chef, Zarinah Anwar. which does not use ginger and garlic in the recipe and really curious to know how it turns out. This
North Indian Chicken Curry
does not use ready made curry powder but make your own from scratch.
The masala paste made of coriander seeds, cumin seeds and dry chili are first roasted then blended.
North Indian Chicken Curry
was super yummy, spicy and very aromatic since using freshly blended spices. I would definitely cook this again.
NORTH INDIAN CHICKEN CURRY
Servings : 6-8
1 whole chicken cut into large pieces, skin removed
1 teaspoon turmeric powder
2 tablespoons plain yogurt
1 and 3/4 cups water
salt to taste
3 onions grated
8 tablespoons oil
ROAST AND GRIND
4 tablespoons coriander seeds
1 teaspoon cumin seed
18 dried chili (adjust to your taste)
METHOD
1. Combine chicken with ground ingredient, yogurt, turmeric, salt and 1/4 cup water.
2. Heat the oil, fry the onion until light brown, add the chicken, stir for a few minutes.
3. Add 1 and 1/2 cups water to the chicken, cover and cook until chicken is tender.
4. When the gravy is thick, remove from heat.
Source : Zarinah Anwar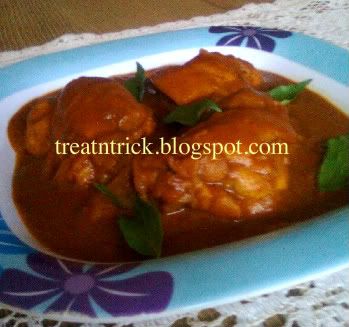 Connect with me: