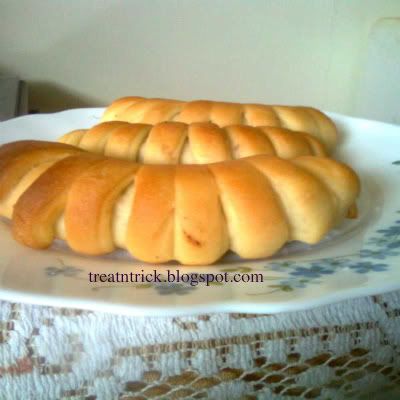 After successful attempts with bread making, love to share this beautiful
Red Bean Buns
which is stuffed with red bean paste. Other fillings such as chocolate, custard or kaya would be the best alternative.
The method of preparation is almost the same as my earlier post except the dough is rolled into oval shaped, stuffing the filling on one end while the other end is cut into thin strips then roll it up and bend upwards. To get the idea how this forms, please look at the photo below.
RED BEAN BUNS
INGREDIENTS
3 cups all purpose flour
3 tablespoons melted butter
1 and 1/2 teaspoons dry yeast
3/4 teaspoon salt
2 tablespoons sugar
2 tablespoons milk powder
1 cup warm water
red bean paste
Photo by Resepidiana
METHOD
* Combine together dry yeast, sugar and warm water, keep 15 minutes until frothy.
* In a mixing bowl combine flour, butter, salt, milk powder and yeast mixture and knead for 10 minutes until smooth or use stand mixer. Keep covered for 2 hours.
* Gently deflate the dough, divide into 16 balls. Roll out the dough into oval shape, put in the filling on one end while the other one cut into thin strips. Roll it up and bend upward (see photo).
* Place the bun on baking pan, keep covered for one hour, towards the end of raising time, preheat oven @ 180 C. Brush the top with butter.
* Bake for 15-20 minutes or until golden brown, brush again with butter. Enjoy...