5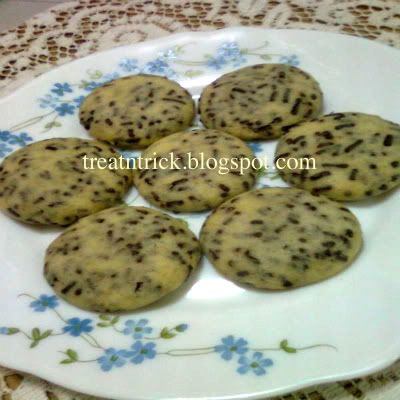 As you might notice, I frequently bake cookies, muffin and cake for my family especially choosing the ones that is not high in calories.
Chocolate Rice Cookies
will produce a treat that is sure to please everyone in your family. It's easy enough for you to whip a batch of these cookies so you and your family can have freshly baked cookies for dessert along with a glass of milk.
Please take note this cookies is easily browned so do not bake longer than the prescribed time. It is so aromatic at the time of baking and has rich buttery taste.
CHOCOLATE RICE COOKIES
1 and 1/2 cups all purpose flour
130 g soft butter
2/3 C fine sugar/brown sugar
1 C chocolate rice
1/2 tsp vanilla essence
pinch of salt
1/4 tsp baking powder
METHOD
* Preheat oven @ 160 C. Sift flour and baking powder in a mixing bowl.
* Beat butter, sugar and vanilla essence until creamy. Add in the flour and chocolate rice, stir until well combined, forms into pliable dough.
* Shape the the dough into small ball then flatten slightly and place them into baking tray.
* Bake for 8 minutes. Sit on pan for 5 minutes before removing to the wire rack.
* Store in an airtight container when completely cool.
YIELD : 38 pieces
Connect with me: