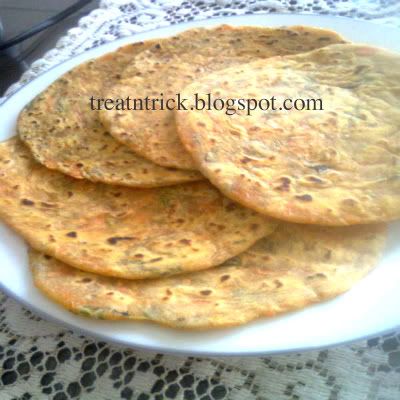 Chapati is unleavened flat bread mostly found in Indian homes. It is made of whole wheat flour, water and salt but sometimes oil or ghee is added in the dough to obtain softer roti. The pliable dough is then roll out into disc, fry without oil on preheated cast iron pan until bubble appears on both side.
Using the basic chapati recipe, various vegetable or lentil are added to the dough and now it is getting popular, great taste and a lot of variety to choose from. It is all depends on your creativity and imagination.
This time, I have chosen carrot to be added to the chapati dough. They turn out fantastic and my family loves them a lot. I have divided them into 6 but you could also shape them slightly larger that means you get only 4 pieces.
CARROT CHAPATI RECIPE
2 C wheat flour
1 C grated carrot
2 T cooking oil
5 green chili chopped
1/2 C water (need not use all)
2 T chopped coriander leaves
2 T ginger and garlic paste
salt to taste
METHOD
* Combine all ingredients except water in a mixing bowl.
* Gradually add the water to form into pliable dough.
* Divide into 6 balls, roll out into round about 1/4 in thick, sprinkle enough flour to avoid sticking.
* Fry each chapati using cast iron pan until light brown and bubble appears on top, flip and cook the other side.
* Remove onto a plate and fry the rest of the flat bread.
* Serve hot with your favorite gravy.