This is standard quick bread using pumpkin. I used fresh pumpkin but for easy way you can opt for canned pumpkin puree.
This is so far the most healthiest quick bread I've baked! Just imagine it uses only two tablespoons of butter and yields a moist and spongy bread.
Baked Pumpkin Bread
freezes well and make great gifts for holidays!
BAKED PUMPKIN BREAD
Adapted from Allrecipes
1 1/2 C all purpose flour
1 tsp baking soda
1 C pumpkin puree
3/4 C buttermilk
1 tsp ground cinnamon
2 T melted butter
1 C brown sugar
2 T melted butter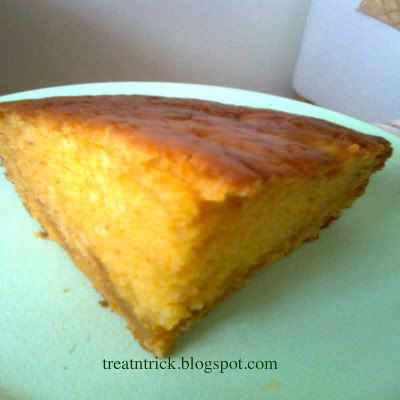 METHOD
* Preheat oven @ 175 C, sift the flour and soda. Grease 8 in round or bundt pan.
* Combine together flour, salt, cinnamon and sugar in a mixing bowl.
* In a separate bowl, mix well buttermilk, pumpkin and butter.
* Gradually add buttermilk mixture to the flour and mix until just combined.
* Pour into prepared pan and bake for 35-45 minutes or until a skewer inserted comes out clean.
* Cool on pan 10 minutes, transfer onto rack to cool.
Connect with me: