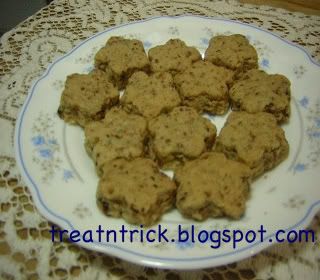 I had a big bag of hazel nut sitting in my pantry. Since my sons have requested to bake a cookies so decided to use up my nut for this recipe.
These cookies are crunchy and nutty. For healthier option, I'm using corn oil and butter but you may use a cup of butter for a richer and buttery taste. Instead of hazel nut and almond you can substitute with walnut, peanut or sunflower seed. The choice is entirely up to you.
NUTTY COOKIES
2 and 1/2 cups plain flour
1/2 cup butter softened
1/2 cup oil
1 cup sugar
1 teaspoon vanilla essence
1 teaspoon baking powder
3/4 cup ground toasted nut (using hazel nut and almond)
METHOD
1. Preheat oven at 170C.
2. Beat butter, sugar and oil until well combined.
3. Add in flour, baking powder and stir in toasted nuts, form into pliable dough.
4. Shape into a small ball and flatten slightly or use cookies cutter, drop onto ungreased pan.
5. Bake 15 to 20 minutes until light brown.
6. Cool completely before storing in a airtight container.