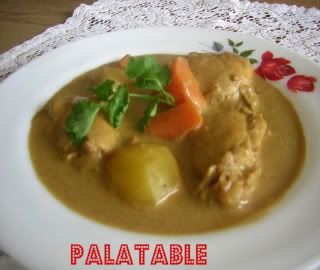 A traditional mild curry which has its root in Persian and Indian cuisine. Its uses coconut, yogurt, cashew,almond or cream in the cooking to give its distinctive flavor.My recipe used coconut milk, cashew and black peppercorn (adjust to taste) and quite easy to prepare. Best eaten with rice, naan and parata.
INGREDIENTS
1 whole chicken cut and cleaned
1 cup coconut milk
3 potatoes cut into wedges
2 big onions cut into thick slice
1 carrot cut into small pieces
2 tomatoes sliced
2 green chili slit
3 tbsp oil
2 tbsp ghee
2 tbsp coriander powder
1 tbsp cumin powder
1 tbsp fennel powder
1 tbsp black peppercorn crushed
10 cashew or almond ground
2 ins cinnamon
6 cloves
salt, lime juice
GROUND
6 shallots
3 cloves garlic
1 in ginger
METHOD
Heat oil and ghee, add the cinnamon,cloves,ground ingredients, salt and tomato, cook until soft.
Add the spices, little water and cook until oil floats on top.
Mix chicken, carrot and potato to the spices, add 2 cups water and let it boil.
Add coconut milk, green chili, big onion and cashew paste, simmer until cook.
Lastly add lemon juice and salt to taste.
Recipe Swap Thursday 13
Food Trip Friday 87
Made With Love Monday 10
Masterpiece Monday 3
Making World Cuter Monday 16
Mad Skills Party 37
Making Monday Marvelous 39
Market Yourself Monday
Mouthwatering Mondays
Homemaker Monday
Mad Skills Monday
Motivate Me Monday 53
Tutorial Tuesday
Anti Procrastination Tuesday
Show Me What Ya Got
Connect with me:
FACEBOOK /
YOU TUBE /
YOU TUBE
/
RSS
/
EMAIL
/
GOOGLE+
/
TWITTER